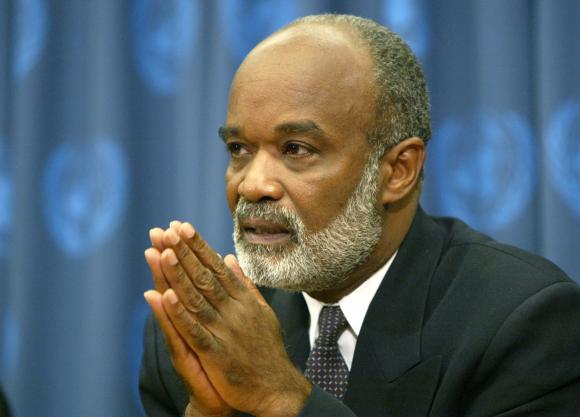 Haiti is in a state of mourning following the passing of one of its most prominent leaders. The beloved former President Rene Garcia Preval passed away yesterday in his home in Laboule, Port-au-Prince, following a cardiac arrest, at the age of 74.


President Preval was one of the most influential and perhaps the most respected Haitian politicians on the international scene for the past thirty years, and, his passing has made many leaders around the world take a pause to salute the memories of this giant of Haitian democracy.
Twice elected president, the soft-spoken agronomist remains the only democratic Haitian President to have served to full terms in office and voluntarily surrendered power, without being overthrown or sent to exile. (1996-2001 and 2006-2011)
The French President Francois Hollande, released a statement paying his tribute to the statesman whom has left his " footprint in the democratic transition" of Haiti, after having received "sadly" the news of his departure.
Former Dominican President Leonel Fernandez expressed regret over the death of his former homologue.


"I deeply regret the sad death of the former president of Haiti, René Preval, a man of peace and kindness. Eternal rest appreciated friend! "
Wrote Fernandez in his Twitter account.
The Brazilian President Michel Temer, also through Twitter, offered condolences to the Haitian people and government over the former president's death.
"I extend to the family of the former president our feelings in this moment of regret,"
Temer wrote. Brazil which has been heading the United Nations Peacekeeping Mission in Haiti (MINUSTAH) since 2004, enjoyed close working relationship with Preval.
Former U.S. President Bill Clinton and his wife, former Secretary of State Hillary Clinton, also remembered him Friday.
"We were proud to stand with the Haitian people alongside President Préval after the devastating earthquake in 2010, and we stand with them today in mourning his passing. Even when we disagreed, we always respected his service to his country,"
the Clintons said in a statement sent to the Miami Herald.
Preval was the country's leader during the terrible earthquake that killed more than 220,000 people on January 12, 2010. He received a lot of criticisms for his weak response following the devastation. Barely escaping alive when the National Palace collapsed, President Preval was in a state of shock and hopelessness; he didn't make any public statement or appearance for days.
Having presided over Haiti during some of Its most difficult and tumultuous years, such as two coup d'Etats, public unrests, and economic challenges, Preval didn't know what to say to the Haitian people that would reassure them.
"To say what? he told LA times during an interview after the quake. To the thousands of parents whose children were dead. To the hundreds of schoolchildren I was hearing scream, 'Come help me!' I couldn't find the words to say to those people."
In : Diplomacy